Why Belleair?
No hidden extras
Great value offers
Belleair Price Promise
Many more reasons >>
What's included in my holiday?
Direct return flights
Checked-in baggage (unless otherwise stated)
Transfers (unless otherwise stated)
All duties and taxes (unless otherwise stated)
Belleair representatives
FREE attraction entry
FREE and reduced child offers
ABTA & ATOL protection
Malta & Italy
Sparkling gems in the heart of the Mediterranean, lying between the north coast of Africa and Italy, the Maltese Islands are a fascinating mix of beautiful secret coves, a rich and colourful history, delightful villages, modern towns, pre-historic temples and beguiling myths and legends. The islands have played host to numerous cultures, add to this an eclectic mix of local and international cuisine, an idyllic climate and welcoming people, and you can understand why visitors come back year after year.
Incredible Italy! This stunning country boasts a bountiful of things to see and do, from exploring ancient ruins and admiring miles of unspoilt coastline to discovering its rich cultural heritage and the nation's love of fashion… and let's not talk about the food!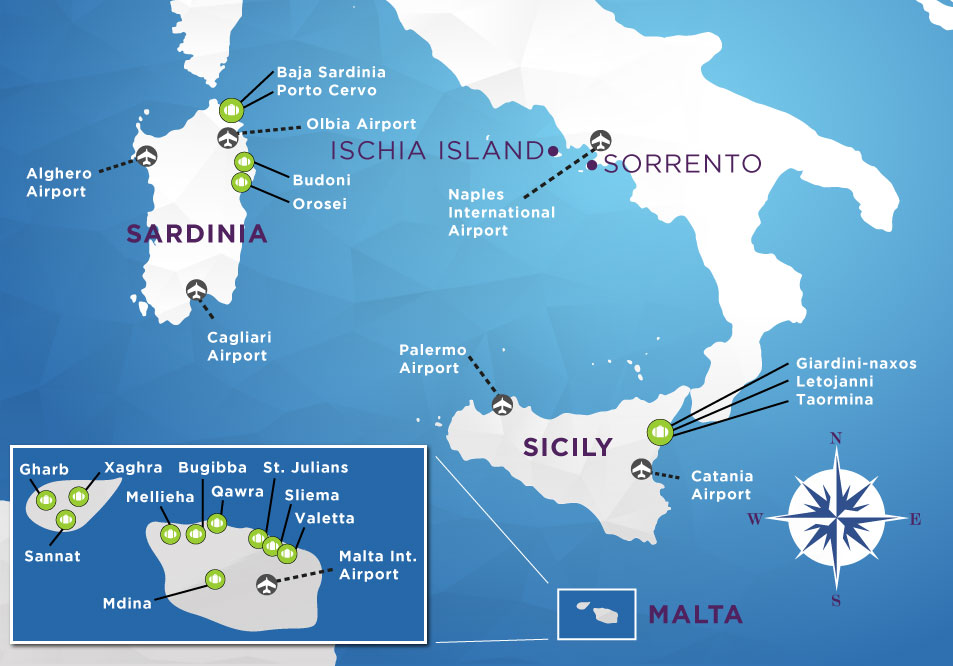 Choose your destination
Malta

Gozo

Sardinia

Sicily

Sorrento

Ischia