Why Belleair?
Great value offers
Belleair Price Promise
Many more reasons >>
What's included in my holiday?
Return flights
Checked-in baggage (unless otherwise stated)
Transfers (unless otherwise stated)
All duties and taxes (unless otherwise stated)
Belleair representatives (Malta & Italy holidays only)
FREE attraction entry (Malta holidays only)
Reduced child offers
ABTA & ATOL protection

A hidden gem in the heart of the Mediterranean, Malta and her islands are a fascinating mix of alluring secret coves, rich in history, charming villages and impressive historic temples.
Malta is characterised by a rocky yet dramatic coastline, picturesque harbours and stunning beaches. From ancient treasures to a buzzing nightlife, Malta off ers everything in abundance. In the summertime, Malta comes to life playing host to some of the major festivals in the Mediterranean. Valletta is the European Capital of Culture 2018 and has big plans. With a calendar full of events, festivals, carnivals and gigs, Valletta is a must visit for every trip to this glorious island.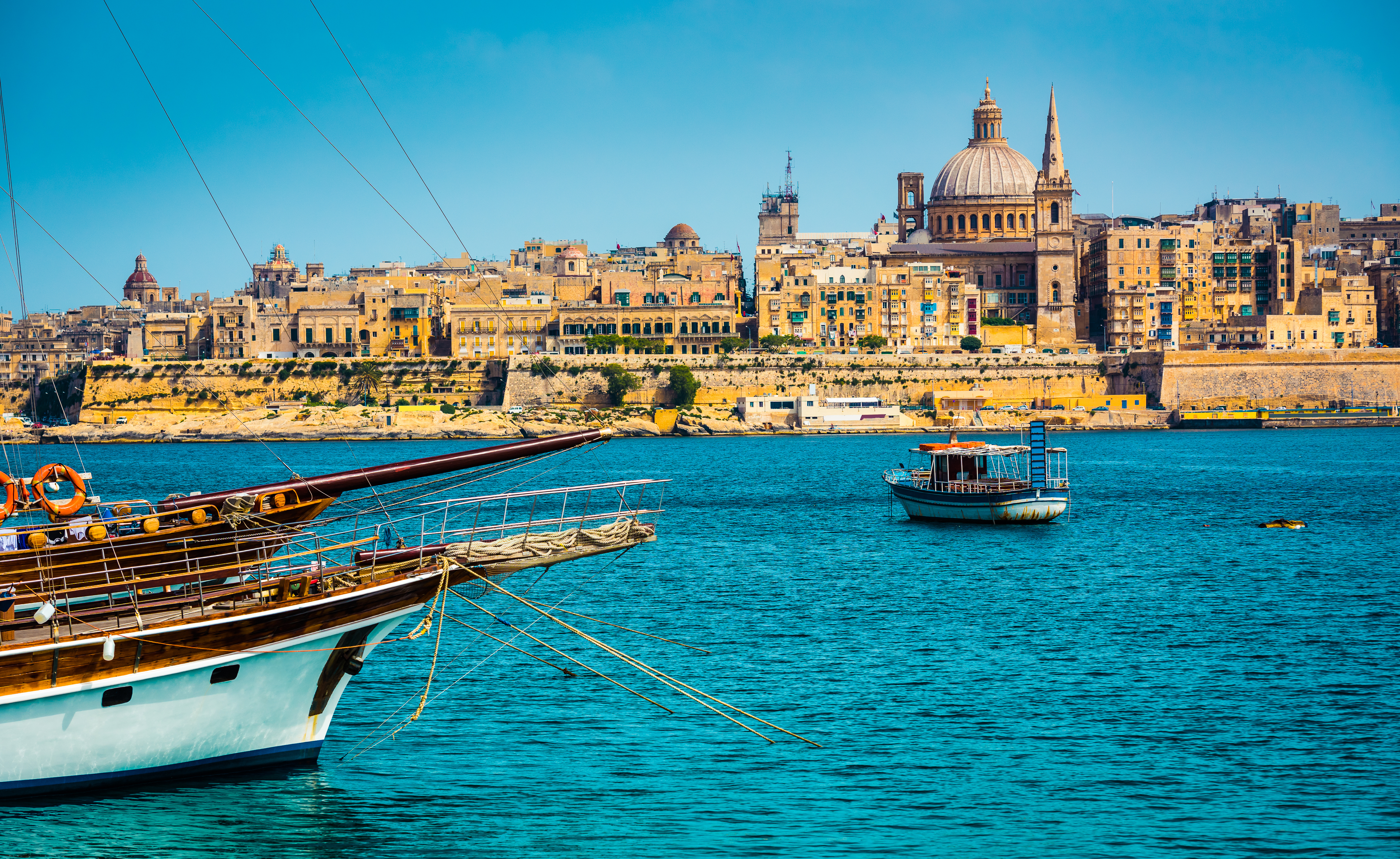 Valletta
Full of impressive bastions, iconic forts and aweinspiring cathedrals, Malta's capital is a living museum. Wander through cobbled streets and discover its fascinating history.
Transfer time: 25 mins
Sliema
Perfect for those seeking a mixture of sun, sea and shopping. Sliema boasts a promenade off ering a vibrant but classy nightlife with its up-market cafes and restaurants.
Transfer Time: 20 mins
St Julian's
St Julian's is known for its great location as it's just a 10 minute drive away from the capital, Valletta. During the day, St Julian's is relaxed with many options to enjoy the sea and sunshine. But it's at night when this vibrant resort comes to life with its array of entertainment choices including grand casinos, lively bars and buzzing nightclubs.
Transfer time: 25 mins
Qawra

One of the most popular resorts on the island, Qawra is a charming resort situated on the northeast of the island. All year round, Qawra is perfect for those looking for a stress-free destination.
Transfer time: 40 mins
Bugibba
Just down the road from Qawra, Bugibba boasts a lively nightlife, shops, bars and restaurants. The picturesque Bugibba waterfront is a perfect place to stroll along the promenade, people-watch from quaint cafes and gaze over the calm seas whilst indulging in the Maltese cuisine.
Transfer time: 40 mins
Mellieha & the North
Perfect for those seeking a beach holiday in quiet and relaxed settings. Boasting golden sandy beaches, clear blue waters and an array of water sports, Mellieha is the ideal location for a family beach holiday.
Transfer time: 40 – 50mins
Gozo
Gozo offers its visitors an altogether experience from its sister islands Malta and Comino. Known for its peaceful surroundings, quaint villages and a rolling green landscape. There is an array of interesting and appealing things to do in Gozo with historical complexes and temples, compelling culture and a dramatic coast off ering unobscured views of the Mediterranean Sea. The islands' capital, Victoria fl aunts its Gozitan architecture with its beautiful churches and grand cathedral.
Transfer time: 2-3 hours including ferry crossing.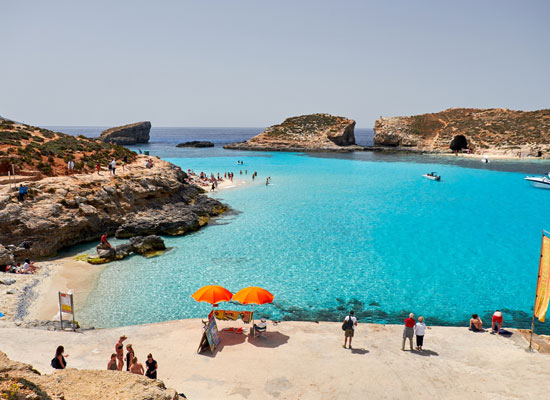 Comino Island
Retreat from the world on Comino Island. No cars, few people and only one hotel on the island, Comino is the perfect escape.
Transfer time: 2 hours including ferry crossing.
ESSENTIALS
Currency: Euro
Flying time: Approx. 31 /2 hours from the UK
Time Zone: Winter GMT +1 hour Summer GMT +2 hours
Handy Tips: Tipping 5-10% is customary in Malta. If hiring a car, the Maltese drive on the left. Extensive bus networks with reasonably priced weekly tickets - see your in-resort representative for details