Why Belleair?
Great value offers
Belleair Price Promise
Many more reasons >>
What's included in my holiday?
Return flights
Checked-in baggage (unless otherwise stated)
Transfers (unless otherwise stated)
All duties and taxes (unless otherwise stated)
Belleair representatives (Malta & Italy holidays only)
FREE attraction entry (Malta holidays only)
Reduced child offers
ABTA & ATOL protection

With miles of beaches, a lovely climate and an array of exciting resorts, holidays to Spain will never disappoint. From polka dot Flamenco dancers, courageous matadors, picture-perfect sunsets and iconic castles and structures, the Spanish charm is something you will never forget.
The Canary Islands have been fi rm favourites with holidaymakers who love to recline in the sunshine, but are also perfect for hiking, mountain biking and riding through a rich variety of landscapes and off beat trails.
With just a few hours from the UK, these sunny little islands are perfect for couples, families and single travellers alike.
Tenerife
The largest island in the Canaries is open all year round for sunshine and down time. Visitors throng towards charming Las Galletas or to buzzing Las Américas and Los Cristianos. Cyclists pit pedal power against the steep contours of Mount Teide before soaking up the sunshine on the golden sands of Costa Adeje beach. Meanwhile, at sea-level and below, beginner scuba-divers can explore the deep in La Pinta Bay.
Approximately 30-90 minutes' drive from the airport
Fuerteventura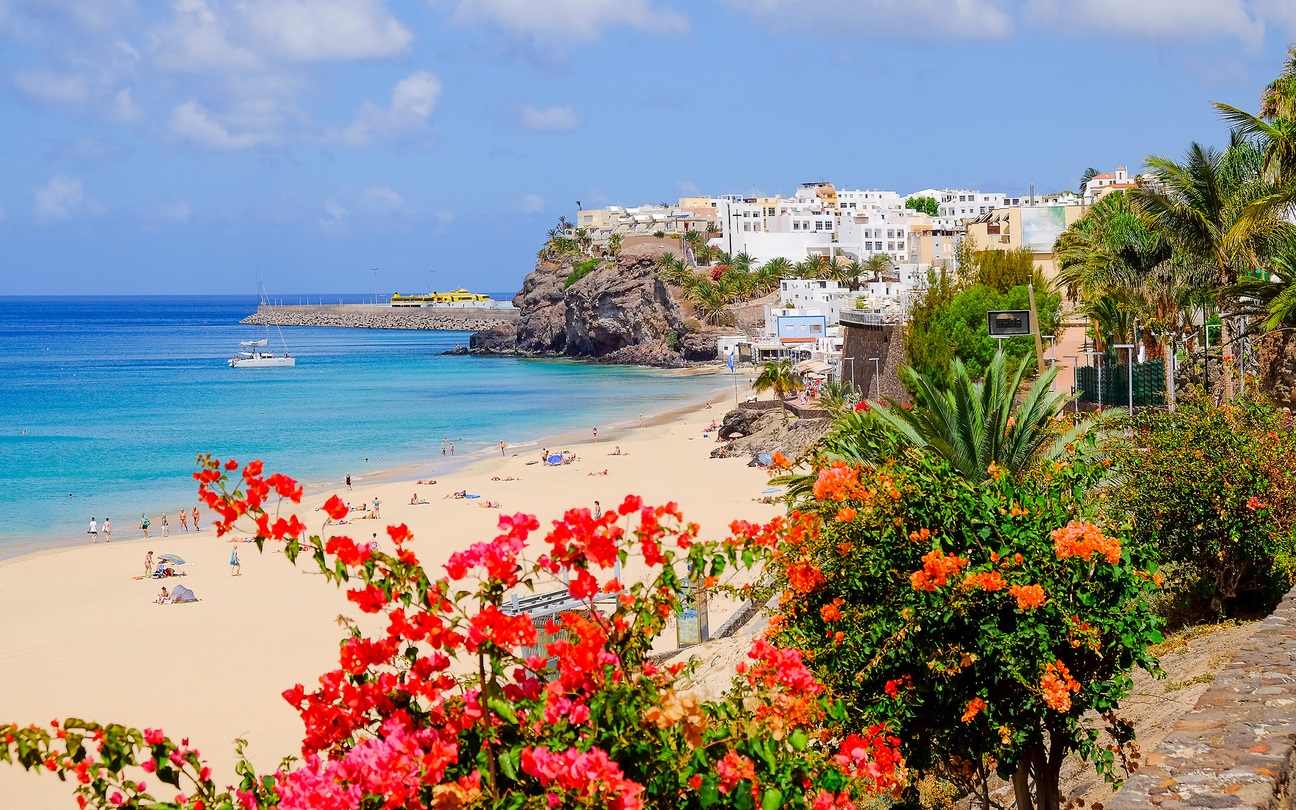 Spacious, peaceful white sand beaches lend Fuerteventura a castaway Caribbean island feel. You'll fi nd visitors of all ages tanning beneath the clear blue skies being cooled by the billowing trade winds. The resort of Corralejo is surf central with the board-shorts and bikini crowd, off ering courses for fi rst-timers and kit rental for improvers. Flag Beach attracts world-class surfers, while El Cotillo village is a beacon to foodies seeking freshly-landed seafood in quaint local restaurants.
Approximately 20-120 minutes' drive from the airport.
Lanzarote
Dusty, red mountains and an alien landscape characterise the island of Lanzarote. She erupted from the ocean twenty million years ago, cooling into craters and creating a crimped coastline of golden and dark sand beaches. Highlights include the Fire Mountains of Timanfaya National Park and the artwork of the island-born artist César Manrique.
Approximately 15-60 minutes' drive from the airport
Gran Canaria
With its share of spectacular coastal and rural scenery, Gran Canaria is the perfect destination for beach time interspersed with gentle exploration. The Maspalomas sand dunes are popular with walkers and with naturists developing all-over-tans. The dunes duck and dive across the horizon linking Maspalomas with Playa del Inglés and are dotted with seaside sunbathing stations. A popular journey is to Guayadeque Valley, north-east of Playa del Inglés, where picturesque restaurants cling to the valley edge serving local delicacies.
Approximately 30-60 minutes' drive from the airport.
---
You could spend a lifetime of summer holidays living it up or lounging in style in the Balearics, a string of three Spanish islands featuring the coolest destinations in the Mediterranean. The islands of Mallorca, Menorca and Ibiza share jaw-dropping coastal beauty and an irrepressible 'live and let live' vibe that has seduced millions of visitors since the swinging sixties.
Rural adventure, cultural stimulation and café-bar living are widespread, but the Balearics' abundant sun-kissed beaches are the islands' main draw. If your ideal escape begins and ends with sunshine and powdersoft sand, a fl ight to any of these islands is a golden ticket to paradise.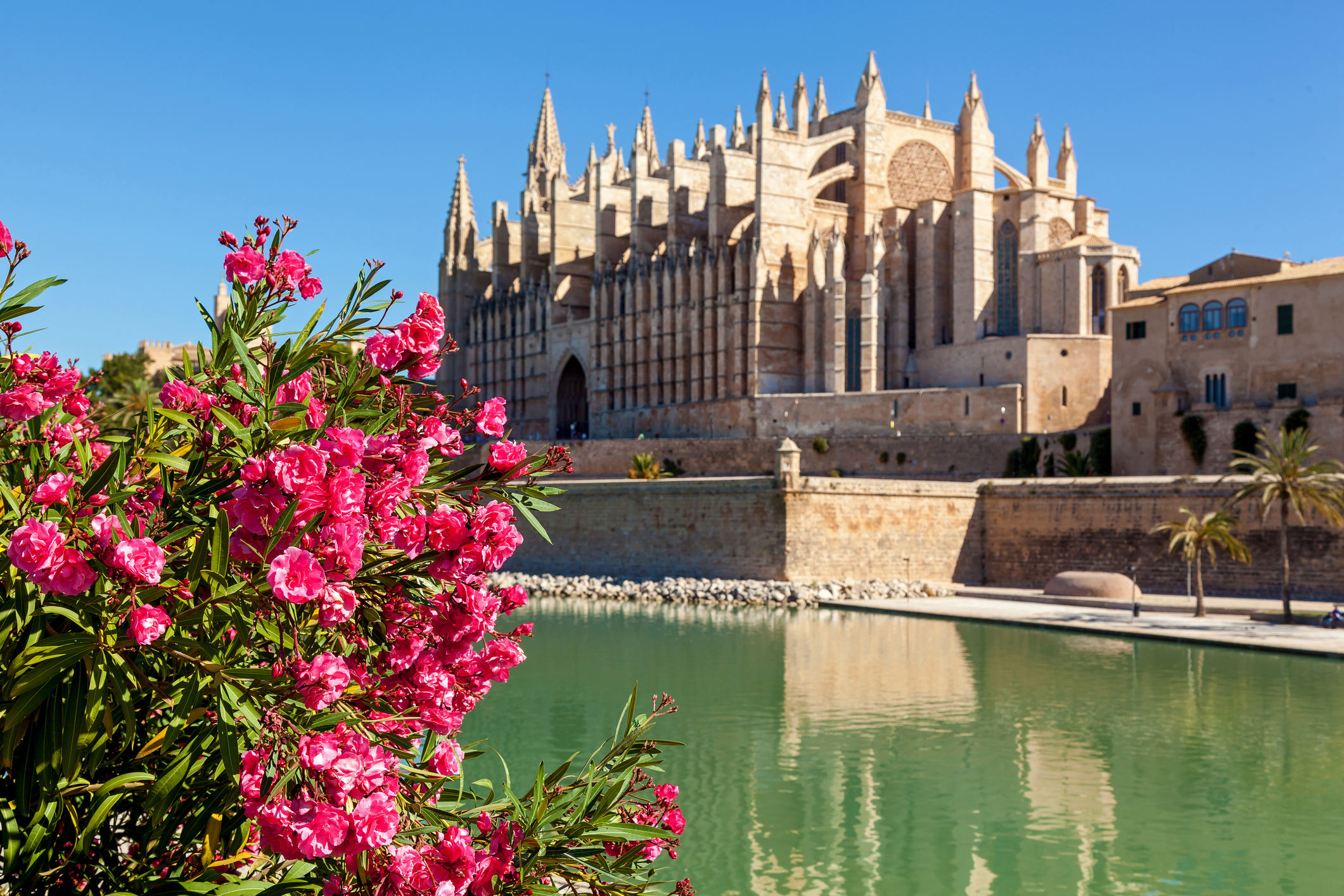 Mallorca
This perfect holiday destination is blessed with 350 miles of coastline, dotted with hideaway coves and sprawling white sand bays. Mallorca can be relied upon to deliver relaxing adult downtime and actionpacked watersport adventures for families in equal measure. Island highlights range from the endless, fi ne sand beach of Magaluf to the northern resort of Puerto Pollensa with its yacht-lined marina and sandy, horseshoe bay. Visitors can hop from mountain train to vintage tram on the journey to Soller town, where the charming squares have shaded restaurants and orange groves line the hillsides. Lose yourself to Mallorca's laid-back lifestyle, as you explore some of the most dramatic coastal roads and fragrant pine-covered mountain passes in Europe. You will uncover sleepy village life, romantic ruins and sun-drenched vineyards clinging to the sides of wide valleys. Tucked away on Mallorca south-eastern coastline are sheltered pockets of sand resting between pine-covered headlands, including Cala d'Or and Cala Barca. Birdlife, including majestic white cranes, fl ock to the region's sandy beaches and its fertile wetlands. Palma, buzzes with city breakers splurging on Spanish designer fashions, snacking on deliciously spicy sobrasada sausage and pondering Picasso's genius at the Museu d'Art Modern. The island capital features graceful landmarks including the Gothic Santa María cathedral which overlooks the bay and the hilltop fortress, Bellver Castle.
Approximately 20-40 minutes' drive from the airport.
Ibiza
The beloved and beguiling 'White Isle' of Ibiza boasts rolling landscapes and coastlines, plus the hottest parties on the planet.
Menorca
Sleepy Menorca is the smallest Balearic island with gorges and sandy inlets. Its beaches outnumber Majorca's and Ibiza's combined.
---
Close to home, welcoming and wonderfully warm, the Costas have been fi rm favourites with holidaymakers for decades. Resorts characterised by sweeping shorelines of iconic golden sand and cosy bars serving bite-sized portions of creamy manchego cheese and grilled prawns are just some of the reasons we all love Spain.
Inland, cobbled streets and sun-drenched plazas off er rustic style dining and whitewashed cottages house workshops and artists' studios. Fashionable boutiques and cobbled courtyards bursting with fl ame red geraniums, lounging under blossom trees and swirling fresh churros in mugs of thick Spanish hot chocolate are hallmarks of the Costa Del Sol.
Benidorm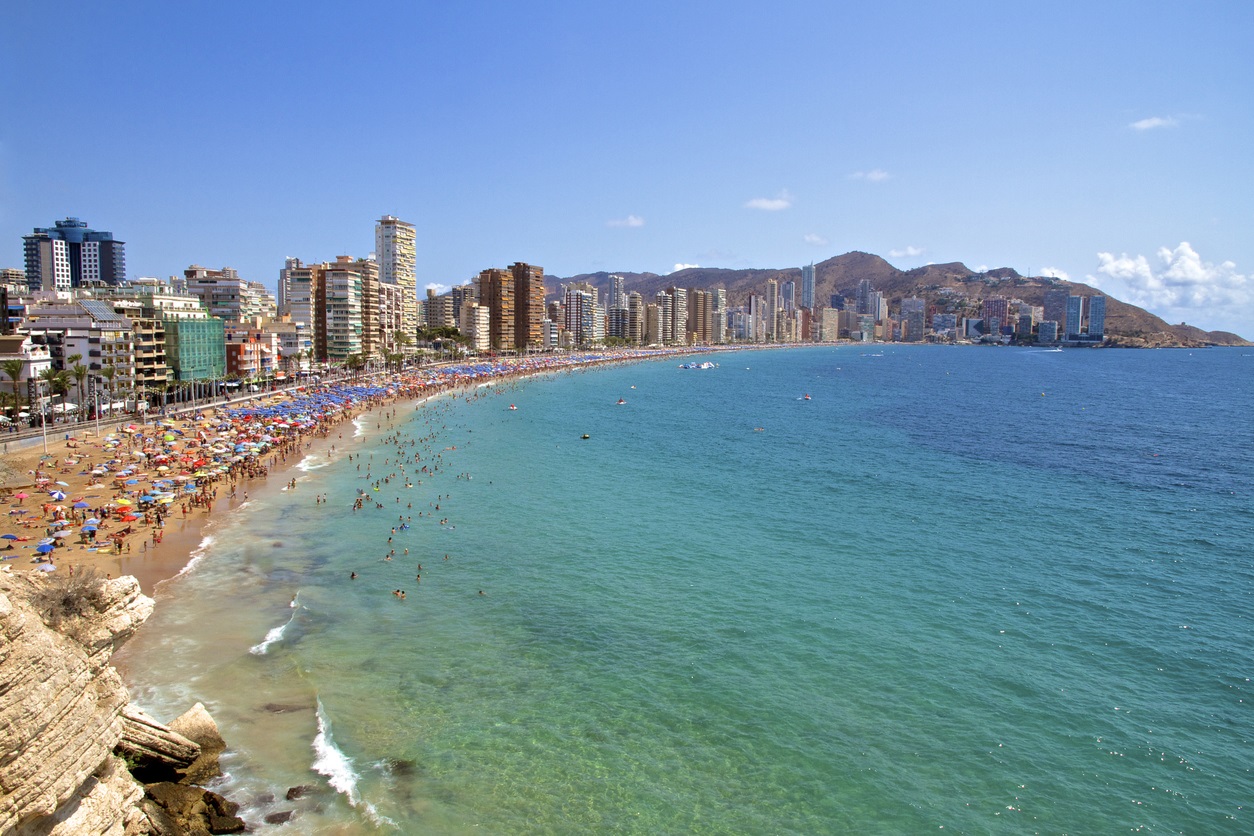 Perfect for sun, sea and a friendly Spanish welcome. Benidorm's Levante and Poniente beaches are wide, swathes of golden sand backed by hundreds of venues. Entertainment choices range from chic, cushioned chill-out lounges to disco pubs while restaurant menus cover almost every cuisine in the world. Palm-lined promenades characterise the Benidorm seafront where sunloungers, parasols and playgrounds feature. You can admire Benidorm's magnifi cent Blue Flag beaches in all their glory from the Placa del Castell viewpoint, at the heart of the resort's Old Quarter. The nearby coves of Mal Pas and Cala Tio Ximo off er a more sedate beach scene.
Approximately 90 minutes' drive from the airport.
Benalmádena
For sun-kissed beaches and theme park excitement on the Costa del Sol, look no further than charming Benalmádena. Seafront fun ranges from watersports and beach football to cool drinks in cool beach bars or sunbathing in the nude (but only at Benalnatura beach). The choice is yours. Tivoli World theme park is an exhilarating highlight to any holiday. The gates open year-round featuring family favourites such as a log fl ume, candyfl oss and seasonal festivals. Benalmádena snuggles up on the Costa Del Sol alongside the nearby hubs of Malaga and Torremolinos. Malaga shines as a city break destination, where sweet wine is sipped and fashionable designs tracked down. Picasso was a famous resident of this port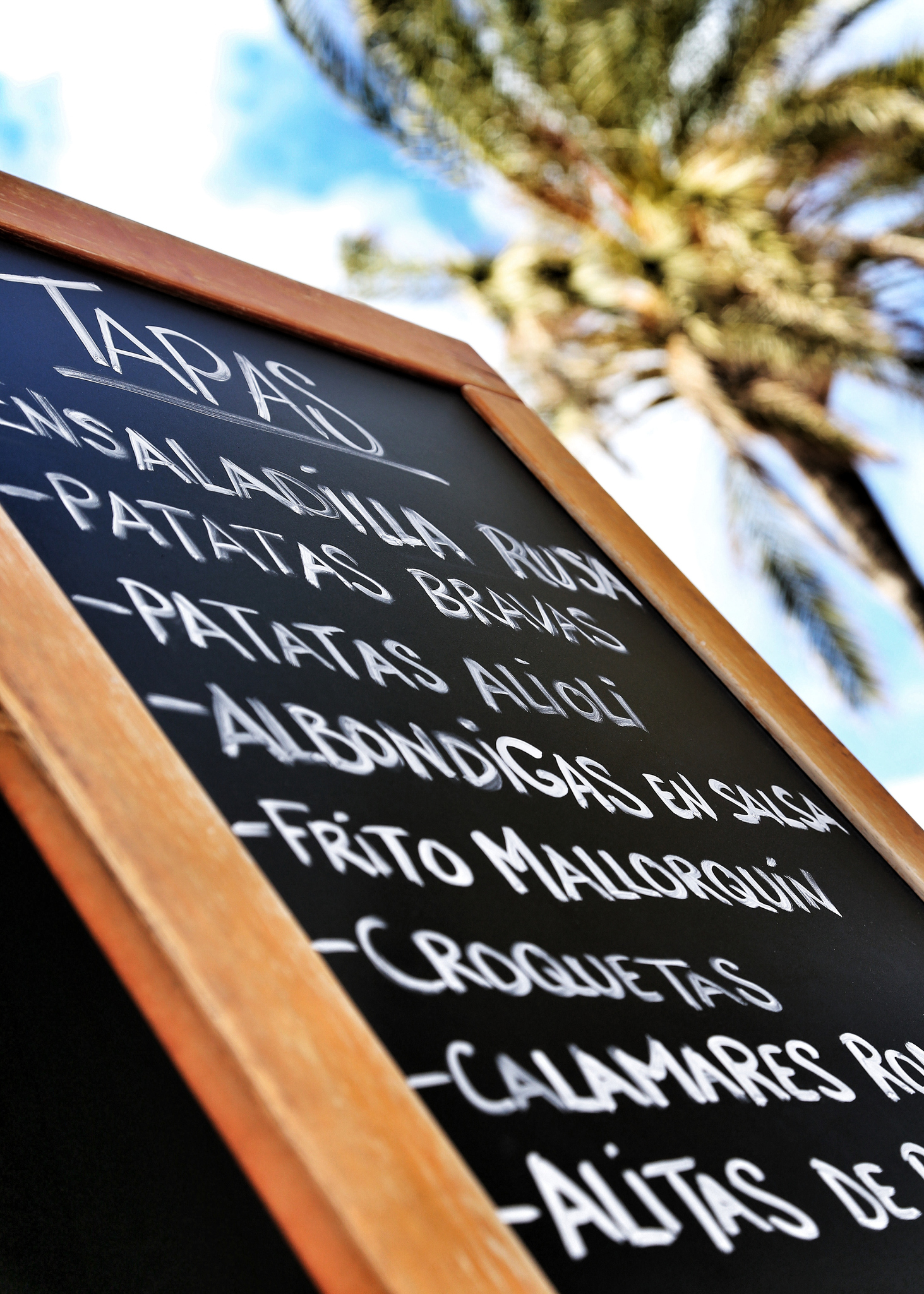 city which prides itself on off ering fabulous restaurants and yellow-sand beaches.
Approximately 50 minutes' drive from the airport.
Fuengirola
Five miles of sand and a cosmopolitan range of restaurants and bars characterise this famous resort. Also adding to the appeal is a popular summer festival and streets lined with boutiques and tapas bars. Since the 1960s, Fuengirola has grown up from its fi shing village roots into a premium holiday destination. A promenade runs the length of the beach featuring bars and restaurants. Fresh fi sh and seafood satisfy hungry diners after days spent playing volleyball, jet skiing or sunbathing on readily available sun loungers. After dark, the local tablaos host tourist-friendly fl amenco shows fi lled with seductive swishes of polka dot skirts and the tones of rosewood guitars.
Approximately 55 minutes' drive from the airport.